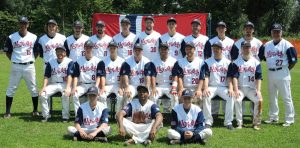 Seniorlandslaget i baseball skal delta i sommerens EM C-Pool, som finner sted i Slovenia i juli. I forberedelsene til denne ukes lange turneringen vil landslaget ha samling på Rommen i Oslo f.o.m. 14. mai t.o.m. 16. mai. 
Det beregnes egenandel på kr 1 500,- for deltakelse på landslaget for alle spillere over 18 år. I tillegg vil det beregnes en egen egenandel for spillerne som reiser til Slovenia. Dette for å dekke litt av kostnadene i forbindelse med transport og overnatting.
Trener Fabian og trenerstaben ønsker alle velkomne!
On Saturday 14 May, players who are eligible to play for the National Team (requirement is a Norwegian Passport) can try out for the team. Tryouts start at 10:00am sharp. If you want to be considered, please send a message to head coach Fabian Weber (
h.fabian.weber@gmail.com
) and indicate your participation.
Please note: There is a general egenandel for being a member of the National Team (in 2016 it was 1500 NOK for players over 18) and there will be an additional tournament egenandel for traveling to Slovenia to cover a small portion of transportation and lodging.
Coach Fabian and the rest of the coaching staff is looking forward to seeing you there.