Two years after its first appearance in the newly established European Championships C-Pool tournament, the National Team traveled to Ljubljana on Saturday, where the event will take place from 25 to 31 July. The team coached by Fabian Weber goes to this international tournament with the objective to prove that they have become a serious competitor over the last two years.
Follow stats and results here: http://www.baseballstats.eu/2016/ljubljana/schedule.php
Follow the events with updates and picture here: https://www.facebook.com/BaseballEChLjubljana2016/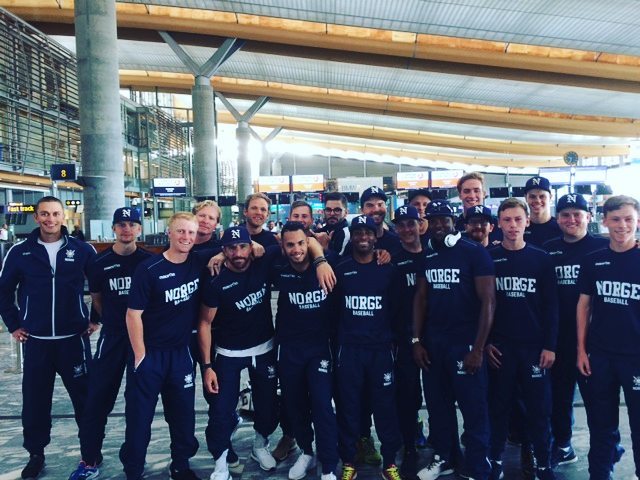 Norway will compete against host country Slovenia, Serbia, Finland and Ireland in the 2016 edition, hoping to win the title and thus qualifying for the European Championships B-Pool tournament in 2017. As for what lies ahead for the competition, Weber seems humble because "we don't know the level of our rivals, and our group has only once participated in a championship at this international level, but we will go game by game, starting with the first day against Slovenia and fighting until the end. We have a good mix of experienced players, who were already part of the 2014 team, and new guys, and it's an honor and a great responsibility because we represent our home country."
Among the new players is 19-year old Steffen Torgersen who attends Dartmouth College in the United States, who only learned about the National Team Program through his dad, who emigrated to the United States more than two decades ago. Gunnar Henriksen from Kristiansand, the youngest player on the roster who just turned 16 in May, will also make his debut for the National Team.
Team Norway will be playing one game per day, with one day of rest throughout the competition on Thursday. To prevent injuries and ensure the best treatment possible for the players, NSBF has teamed up with Fysio Oslo and Patrick Jensen will serve as the team physical therapist for the tournament.
Furthermore, NSBF is proud to announce that Macron will be sponsoring the National Team and the Academies for the next five years. "This is a fantastic agreement because it gives us predictability and reliable access to top quality equipment for our finest athletes. We are proud to represent our country internationally while wearing Macron" says Sven Tønnessen, president of NSBF.